Geophysical Survey
Geotech with reliable and professional geophysical survey techniques
GeoTech is expertise in the deployment of the geophysical instruments, coupled with the field application of the latest processing and visualisation software to capture key information which is not available through other means.
Imaging stratigraphy

---

Low frequency Ground Penetrating Radar surveying can penetrate the ground to several tens of meters and image significant geological structures including stratigraphy and the presence of voids.

Structural Investigations using GPR

---

Ground Penetrating Radar has enormous potential for use on engineered structures. It allows rapid non-destructive coverage, with a depth penetration of up to 2m. The approach allows to image multiple layers of construction detail, the calculation of thicknesses, and the location of internal metalwork including multiple layers of reinforcement.

Cross-borehole Seismics

---

Cross-borehole seismics is used to determine the elastic properties of a chalk bedrock with depth, prior to a vibration analysis for foundation design. Cross borehole tomography allows a 2D section of ground velocity to be generated. The integration of cross borehole tomography with other seismic methods offers to better constrain seismic boundaries and improve the quality of geological and hydrological models of a site.

Services and Utility Tracing

---

By conducting GPR over a grid in two directions, the data can be merged to form accurate three dimensional volumes - even in a crowded urban environments. The 3D volume can be manipulated to show slices through the data. It is then possible to map the presence of spatially persistent anomalies across multiple survey lines.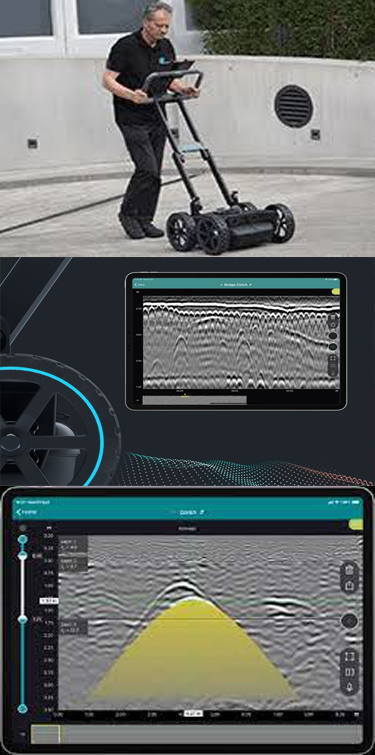 Our Valued Clients
We work closely with a wide range of clients from different sectors and regions across public sector, private sector and local and national governments.